Places to See is a controlled crowd-sourcing effort which has generated a map of unique, exotic and interesting destinations all over the world selected on account of their natural and/or cultural qualities. Unlike Patricia Schultz' 2003 travel book "1000 places to see before you die" where readers overdose on opulent and expensive hotels before they reach page 50, Places to See is pure, simple and free inspiration for travellers like you.
Download free high resolution Places to See world maps…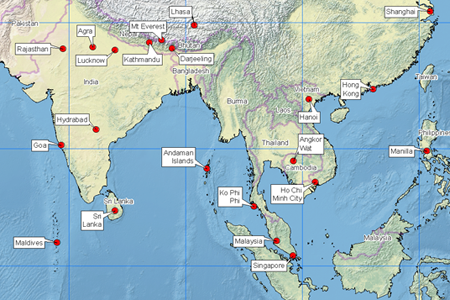 About Places to See
The idea behind "Places to See" was conceived on a Saturday in the beginning of July in 2009 during a lunch at the Zaatar W Zeit in Abu Dhabi Mall. Present was Mike Cheremshynskyi and myself.
I had been spending nearly an hour trying to pump the well-travelled former communism-salesman for information on places he had visited and which, based on his knowledge of me, he thought I would like too.
Looking at the list of suggestions resulting from the interrogation of Mike, I thought that this would be an interesting experiment to conduct on a larger group of people. I therefore sent fifty SMS messages to good, old and well-travelled friends and colleagues where I asked them to send me, by SMS and within 24 hours, a list of seven destinations they had visited and which they thought I would like.
Destinations which were suggested more than once, or wich I fell for and particularly wanted to visit, were included in the first edition of Places to See. Since then, a few entries have been added, modified or deleted based on reading of travel books and studying of photos.
Acknowledgements
Thanks for contributions to (in alphabetical order): Anders A. Fitje, Are Frode Søholt, AVS Shankar, Brian Goodchild, Chad Jerry Hendrix, Heather Kjørlaug, Ivar Petter Grøtte, Kjetil Reite, Marcin Kunka, Mohammed Usman Ahmad, Mykhailo (Mike) Cheremshynskyi, Nicolas Chavent, Olav Hauge, Olga McHenry, Oskar Henriksen, Ove Drageset, Per Andersen, Pål Føyn Jespersen, Tor Gunnar Øverli, Yngve Frøyen and Øyvind Heimset Larsen.
Download free high resolution Places to See world maps
First edition (2009): The first edition contains 142 destinations based on the suggestions received from friends and colleagues via SMS during two days in the beginning of July 2009.
Download the first edition of Places to See as a PDF file. (ISO A1 size, 150 dpi, 5.4MB)
Second edition (2010): The second edition contains 149 places worthy of a visit. The edition resulted from a revision conducted in late November 2010. In this revision a few places which were left out because I had already been there has been included, also some of the more dubious destinations in the western parts of Africa have been removed awaiting further research.
Download the second edition of Places to See as a PDF file. (ISO A0  size, 150 dpi, 6.96 MB)
Terms of Use
You are free to do pretty much whatever you want with this map and information derived from it as long as you respect the terms of the Creative Commons license under which it is distributed as well as the Natural Earth free vector and raster map data license.
Places to See by (Stein) Runar Bergheim is licensed under a Creative Commons Attribution-NonCommercial-ShareAlike 3.0 Unported License.

The second edition of the map was made with Natural Earth. Free vector and raster map data @ naturalearthdata.com.