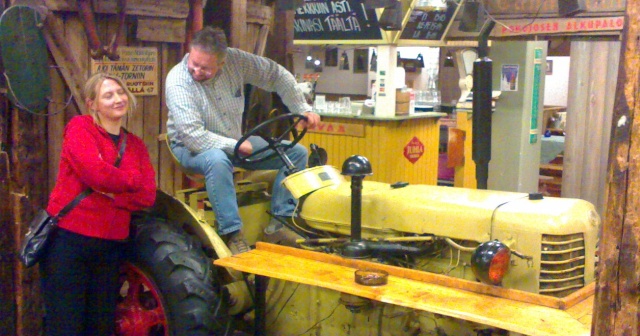 Tractor driver chatting up woman from old Zetor-tractor at one of Zetor's characteristic pub tables.
After visiting Helsinki's tractor pub Zetor, named after the Czech tractor brand popular during the Cold War, my interest for Leningrad Cowboys came to life again after years of slumber. The pub, owned by Aki Kaurismaki, was decorated with Zetors fitted with a bar counter so you could sit on or around the tractors enjoying your beer. Almost like home.
My first meeting with Leningrad Cowboys was through Kaurismakis 1989 cult film, Leningrad Cowboys go America (which I didn't see until 1996). I was immediately intrigued by the pack of strange characters, the lack of continuous dialog and their highly original and irregular interpretations of rock'n roll music!
As with so many things, the contrasts are what makes the band ingenious. The cooperation between the Cowboys and the Alexandrov Red Army choir see to it that contrast is in plenty! Together they do covers such as "California Girls", "Happy together" and balalaika renditions of "Sweet Home Alabama", "Knocking on Heavens door" and "Stairway to Heaven".
Great stuff!