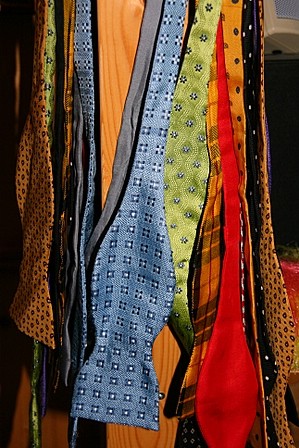 The character Doc Wilson in the film State and Maine introduced the world to the ill-forged statement: "never trust a man in a bow tie". This entirely baseless statement has since been embraced by all those who due to lack of ability are forced to wear regular neck ties or, worse still, cannot even manage that knot and avoid neck ties altogether.
The bow tie is a garment suitable for gentlemen only. Not only does it look dashingly good, it also demonstrates to the world that the wearer is in fact capable of tying a knot with a personal touch. The bow tie lends eccentricity to its wearer and earns lots of justified attention from women while at the same time it stimulates hatred and envy in the wearers male peers.
I buy most of my bow ties while traveling but have recently become aware of the Bow Tie Club, an e-commerce web-site with an excellent selection of bow ties and matching pocket squares for that final touch.
Go ahead and become a bow tie wearer!!!
Please read this article for instructions on how to tie a bow tie…